About the Women's Research Centre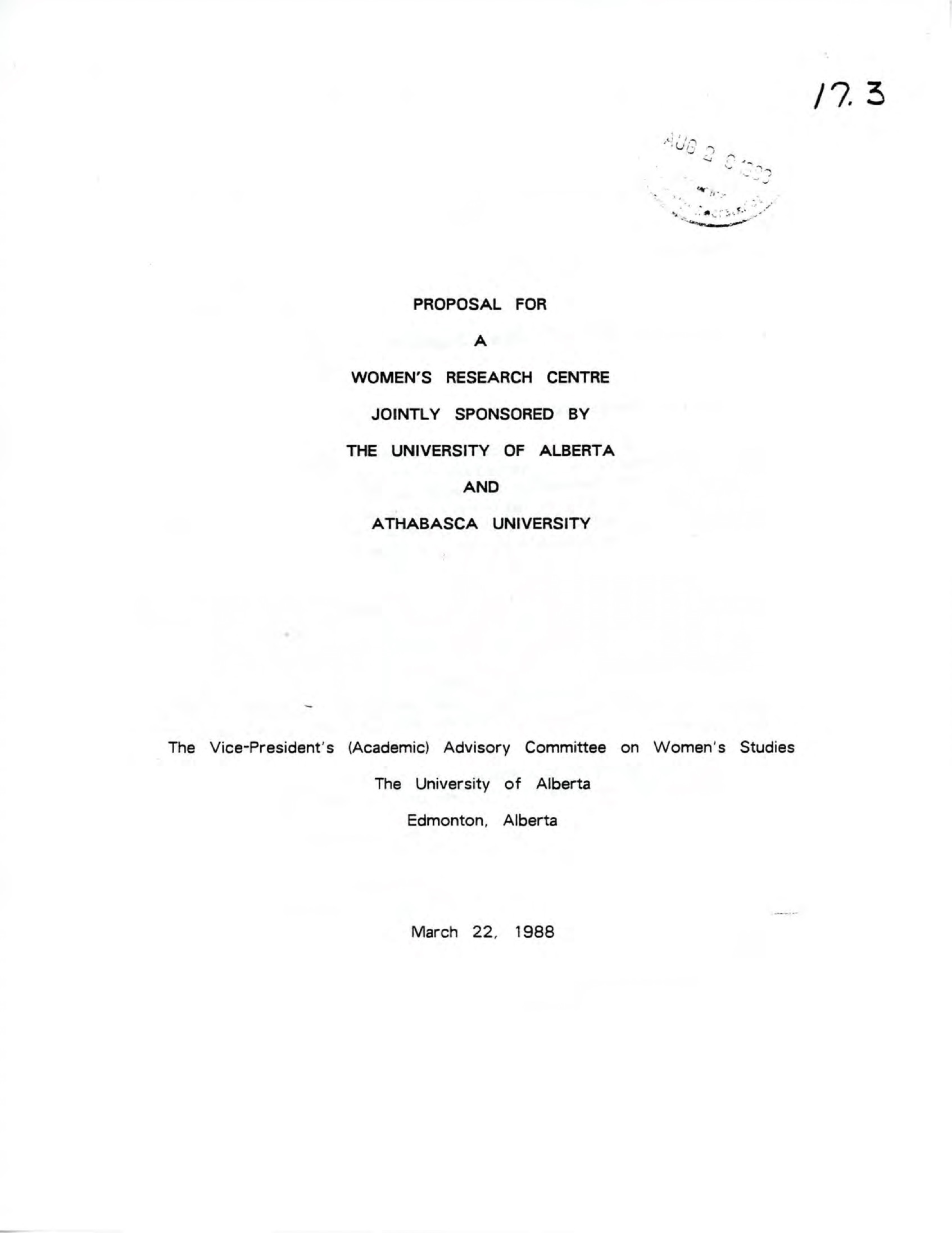 The Women's Research Centre (WRC), later known as the Misener/Margetts Women's Research Centre, was established by the University of Alberta (UofA) and Athabasca University (AU) in 1988. Its overall goal was to be "a focal point for feminist research in both universities and in the larger community" (308a).
UofA established a Woman's Program in 1981, building upon the momentum of two national non-governmental organizations promoting women's rights in the education sphere: the Canadian Congress for Learning Opportunities for Women (CCLOW, founded 1971) and the Canadian Research Institute for the Advancement of Women (CRIAW, founded 1976). In fall 1984, UofA established an Advisory Committee on Women's Studies with the goal of creating a Chair in Women's Studies jointly with AU and supporting Women's Studies more generally.
In 1985, the Advisory Committee, co-chaired by Marilyn Assheton-Smith (Educational Foundations) and Rosemary Liburd (Student Counselling) began planning the WRC. In 1987, the Advisory Committee was renamed as the Coordinating Committee on Women's Studies, sponsored by UofA's Vice President (Academic).
The Committee prepared a proposal for the WRC that defined feminist research as transdisciplinary and intersectional, "research for women, rather than research on women or by women." The objectives of the WRC, as stated in the proposal, were:
a) to provide a centre for critical disciplinary and interdisciplinary feminist research open to university and community research.

b) to contribute to the building of a knowledge base in women's studies, especially on topics particularly pertinent to women of Alberta, Western Canada and the North.

c) to continually develop and reassess feminist research methodologies, especially interdisciplinary methodologies.

d) to make research results accessible, especially to those involved in university teaching, to community women's groups and to government agencies and departments with social policy mandates (308a).
The WRC would also provide infrastructure (research space, grant and funding support) and facilitate collaboration among researchers and institutions. In terms of its administrative structure, the proposal called for a seven-member coordinating committee, two paid staff (a director and a secretary), and resident and visiting researcher members.
In 1988, the Committee's proposal for the WRC was endorsed by the Vice Presidents (Academic) of UofA and AU, and it was established in a house on the UofA campus.
The WRC was active until 1993.
Reference
AU018 Women's Research Centre committee fonds. [Fonds description]. University of Athabasca Library, Thomas A. Edge Archives & Special Collections. https://www.athabascau.ca/archives/documents/au018womensresearchcentrecommittee.pdf.